The thought of chickens might bring up the image of a crispy and juicy fried chicken. I mean, when you think of chicken, it's usually when you're hungry.
Am I right?
The last thing that chickens will remind you of is any form of fighting. But the thing is, there are chickens used for this exact purpose.
Cockfighting!
Yes, the Aseel chicken breed was actually bred for this purpose in India because of their muscular build, aggressiveness, great fighting skills, and high stamina.
Although they don't lay many eggs per year, they can be great sitters. And these types of Aseel breed chickens will amaze you, which is what I'll talk about today.
Types of Aseel Breed
There are a lot of different types of Aseel breed chickens around the world. But I'll only talk about the most known ones.
Shamo Aseel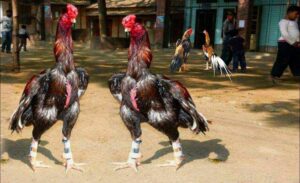 This Aseel chicken breed is also a great fighting breed. And these chickens are taller with small tails compared to other Aseels.
Originally bred in Thailand, these Aseels are usually black in color and have muscular thighs, great for fighting.
Heera Aseel
Because of their white color, the Heera Aseel is named Heera. These chickens actually look a lot like broiler chickens.
With wide breasts and legs in medium to long sizes, the Heera Aseel chicken breed boasts really thick feathers.
Amroha Aseel
Allegedly originating from India's Amroha State, the Amroha Aseel chicken breed is a very rare Aseel breed.
These chickens have really glossy feathers with a body design that is slightly curved and sport a black-breasted brown or red color.
Parrot Beak Aseel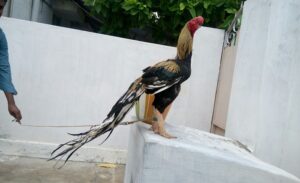 Just as parrots have long tails, the Parrot Beak Aseel also sports such a long tail, which looks much like a parrot's tail.
And these chickens have smaller beaks compared to other Aseel chicken breeds, which are red in color with a yellow tip.
Thai Aseel
Another Thailand-originated Aseel chicken breed is the Thai Aseel, titled by the locals. This Aseel chicken breed boasts combinations of colors like green and black.
But they have a red face with a red patch located on their chests. And this makes them look more distinctive than others.
Mianwali Aseel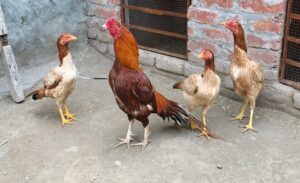 Commonly found in Mianwali, Punjab, the Mianwali Aseel is named after the district. And this breed is much smaller than the Sindhu Aseel.
However, these chickens are really fast and good head hitters because of their size. They can easily take down roosters bigger than them.
Lasani Aseel
Another one of the really rare types of Aseel breed chickens is the Lasani Aseel breed, known mostly as great neck breakers.
With their small necks, large breasts, and long beaks, these chickens do participate in cockfighting.
Sindhi Aseel
I have already mentioned this Aseel breed earlier, and the Sindhi Aseel breed is one of the most popular breeds.
These Aseels are also used in cockfights because of their taller height, muscular body, and heavyweight.
Mushka Aseel
Unlike the Lasani Aseel breed, the Mushka Aseel breed is much more common and more available.
But they also have green and most black shades of feathers on their bodies, and their feet are gray.
Pure Aseel Breed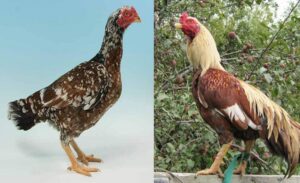 Although the Pure Aseel Breed isn't actually typical, these chickens are named by some of the natives.
And the reason for calling them pure is that there is no genetic modification done while breeding them. So they have the characteristics that the natives think are pure.
Final Word
All the different types of Aseel breed chickens are actually really expensive, and I'm talking hundreds of dollars for a single adult Aseel chicken. But this is mainly because of their cockfighting skills.