As far as protective hairstyles go, all kinds of braids are welcomed by mixed-raced women around the world.
Box braids, bob braids, crochet braids, Fulani braids, the list goes on. But the kind of protective hairstyle that has been gaining a lot of traction is the knotless braids.
Especially large knotless braids!
Not only do these braids make you look stunning, but this hairstyle is actually really good for you for a couple of reasons.
It relieves the tension on your scalp compared to other braids, looks really natural, is versatile, and is very comfortable to wear.
But there are many ways you can style your large knotless braids. And I am here to tell you all about them.
Natural Ombre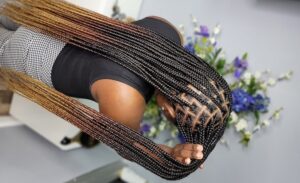 If you have a warm skin tone, this look will really compliment you. The seamless look of dark hair descending to a lighter gradient of blonde is what you need on your large knotless braids.
And you can spice things up even more if you add a few rings and hair cuffs to this hairstyle.
Curly Ends
Now if you are looking to stand out from the crowd of women rocking large knotless braids, you should add curls at the end.
The loose curly ends will add a playful look to your persona. And you can even add burgundy extensions to make them stand out more.
Two-Toned Knits
There are so many options when it comes to synthetic hair extensions that you want to add to your knotless braid.
But if you add golden brown ones to your black locks, it creates a classy look. And to top it off, you can add transparent beads too.
Chunky Lob
Many women go for long and luscious braids with their thick knotless braids. But not many appreciate the look of the shorter version.
I assure you that you can rock a long bob with this hairstyle if you just give it a chance. 
Pink Look
If you're someone who likes all things pink, you would surely want to rock a pink hairstyle too. Even if you're not into pink that much, loon pink braids will certainly turn heads.
Curly Goddess
Nowadays, looking like a hot mess is all the rage. It can easily make you look like a beautiful goddess who just "woke up like this."
Pull out some thin tendrils while braiding and curl your ends to make jaws drop when you walk down the streets.
Color Split
Pitch-black braids, whether naturally or by using hair dye, can look magnificent. And you know what's better?
Keeping one half of your head covered with black knotless braids and the other half with platinum blonde ones.
Top Knot
Who doesn't love the classic top not? But to make things more high stakes, you can create a heart on both sides of your head and leave a braid loose.
Create a top knot with the rest of the knotless braids, and you're the next "It Girl."
Highlights
A simple knotless look with black hair can really pop if you add a bright highlight of any color of your choice on both sides. Make sure it's only one braid on each side.
Knotted Ends on a Bob
Remember what I said about long bob? Well, you can take it up a notch if you try jumbo knotless braids on a bob.
And to make the look impossible to look away from, add knots at the end of each braid.
Conclusion
However you choose to style your large knotless braids, I am one hundred percent sure that you are going to rock them. With all these styles, you can easily mix things up to play with your look.