Travel
Pink Lululemon Belt Bag: Is It Good for Travel?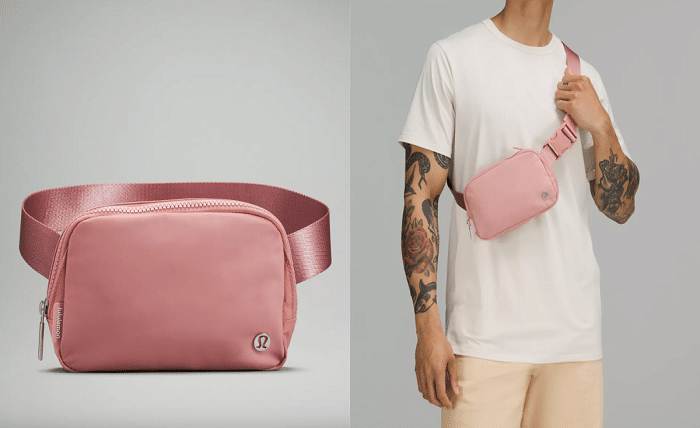 Fanny packs are a trend that died way back in the 90s. So people don't usually wear this kind of bag for fashion anymore.
Don't they, though?
Although fanny packs weren't trendy for a long time, they have made a comeback with a completely different name.
Belt bags!
And the Lululemon Belt Bags made the trend even more prominent. So I got myself the Pink Lululemon Belt Bag.
But I travel a lot. And this bag needed to take care of my travel needs. Even though I was uncertain about it meeting my traveling needs, it did!
So the Pink Lululemon Belt Bag is not only a trendy fashion accessory, but it is also a great bag to travel with.
Pink Lululemon Belt Bag Review
Although fanny packs were used for travel in the past, it is now more of a statement piece as the belt bag.
So I was doubtful if the Pink Lululemon Belt Bag was going to be able to serve my travel needs or not.
Oh, it did!
I have to admit, I bought the bag on a whim because everyone was getting one. But now it's a great addition to my travel outfit that gets a lot of attention from people.
It fits all my necessities like my phone, wallet, keys, passport, lipstick (essential), and a few other important stuff.
How do I wear it?
Well, there are actually four ways of wearing this bag, and I've tried all of them. The first one is, across the chest, which is the most common way of wearing this bag.
And I like wearing it this way because I have easy access to all my things.
Now across the back!
You can wear it that way, but I didn't like to do so. It makes it hard for me to get my stuff when they are all in the back.
And you can also wear it like a fanny pack across your hip. I did try this out, but I was a bit shy when doing so.
But it's fun!
You don't feel the weight of the bag on your shoulders this way. And that is a plus for me, even with the few glances I get.
What I do is wear it a bit higher and closer to my waist instead of my hips! But you can also wear it on your shoulders. I do it often in a hurry!
How do I style it?
When I know I'm going to have to deal with waiting at the airport and being on the plane, I go for an active-wear look. Sometimes, I do that just to look sporty, though!
But, honestly, the Pink Lululemon Belt Bag only looks best with this kind of look, in my opinion. I either wear a white T-shirt with long sleeves as well as pink joggers or with a short skirt.
How I Keep My Pink Lululemon Belt Bag Clean
I use this bag a lot, which means I have to keep it clean at all times. So now, I will share how I keep this bag clean as new.
Sometimes, I do spot cleaning. I am a bit clumsy, so I tend to get the bag dirty with spots. So I just use some soapy water to clean the mess.

After a long few days of traveling, I submerge the entire bag into some warm soapy water and scrub it with a soft brush.

The best trick for me is to clean the bag as frequently as possible. So I wash it every week to keep it looking good as new.
The Verdict
I love the Pink Lululemon Belt Bag that I got for travel. It serves me well when I have to carry my essentials with me in a small bag without having to carry it by hand. If you're interested in getting a belt bag for yourself, I suggest you get this one.
Read more about Choosing Choice Home Warranty